This article is about content exclusive to the

Event:

Winter Wonderland 3
This content is not available outside of this Event.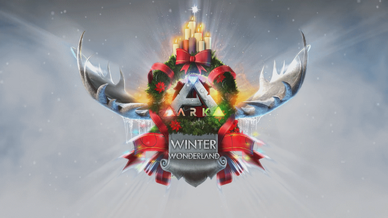 Raptor Claus is sailing across the night sky in his sleigh, air-dropping presents filled with high-end loot as well as Mistletoe, and Coal for those naughty Survivors. He is joined by Gacha Claus who will be roaming all maps in a dashing Santa Hat and sporting holiday-themed colours to help out the very busy Raptor Claus.
Start date
December 18th, 2018
End date
January 7th, 2019
ARK: Winter Wonderland 3 was an ARK: Survival Evolved Christmas event. During the Event,

 Raptor Claus flies between 0 and 2 o'clock (12midnight-2am) in-game time in a straight line over all maps, dropping presents containing

 Mistletoe,

 Coal, and various resources, loot and blueprints for high-quality equipment.

 GachaClaus roams around the maps in Winter Wonderland 3 wherever

 Parasaurs can be found. When fed 10 × 

 Coal or 10 × 

 Mistletoe they produce

 Gacha Crystals containing high-quality equipment (Armor and Weapons) and Winter Wonderland Event items, see below.
Server settings
[
]
To activate the event on a private server, the code line -ActiveEvent=WinterWonderland can be added to the command line or in the configuration files.
Gameplay Changes
[
]
Resources
[
]
Event items
[
]
Creatures
[
]
Spotlight
[
]
Calendar
[
]
| Image | Event | Start Date | End Date |
| --- | --- | --- | --- |
| | ARK: Happy New Year! | January 1st, 2021 | January 1st, 2021 |
| | ARK: Love Evolved 2 | February 11th, 2021 | February 18th, 2021 |
| | ARK: Eggcellent Adventure 6 | March 31st, 2021 | April 14th, 2021 |
| | ARK: Summer Bash 2021 | June 30th, 2021 | July 21st, 2021 |
| | ARK: Fear Evolved 5 | October 26th, 2021 | November 9th, 2021 |
| | ARK: Extra Life 2021 | November 6th, 2021 | November 7th, 2021 |
| | ARK: Turkey Trial 5 | November 23rd, 2021 | December 7th, 2021 |
| | ARK: Winter Wonderland 6 | December 14th, 2021 | January 6th, 2022 |
| Image | Event | Start Date | End Date |
| --- | --- | --- | --- |
| | ARK: Love Evolved | February 11th, 2020 | February 18th, 2020 |
| | ARK: Eggcellent Adventure 5 | April 7th, 2020 | April 21st, 2020 |
| | ARK: 5th Anniversary | June 11th, 2020 | June 24th, 2020 |
| | ARK: Summer Bash 2020 | June 25th, 2020 | July 21st, 2020 |
| | ARK: Fear Evolved 4 | October 22nd, 2020 | November 6th, 2020 |
| | Genesis 2 Chronicles | November 7th, 2020 | March 24th, 2021 |
| | ARK: Turkey Trial 4 | November 24th, 2020 | December 8th, 2020 |
| | ARK: Winter Wonderland 5 | December 17th, 2020 | January 7th, 2021 |
| Image | Event | Start Date | End Date |
| --- | --- | --- | --- |
| | ARK: Valentine's Day 4 | February 12th, 2019 | February 18th, 2019 |
| | ARK: Eggcellent Adventure 4 | April 16th, 2019 | April 30th, 2019 |
| | ARK: Summer Bash 2019 | July 2nd, 2019 | July 19th, 2019 |
| | Genesis Chronicles | October 10th, 2019 | February 25th, 2020 |
| | ARK: Fear Evolved 3 | October 22nd, 2019 | November 5th, 2019 |
| | ARK: Turkey Trial 3 | November 19th, 2019 | December 6th, 2019 |
| | ARK: Winter Wonderland 4 | December 18th, 2019 | January 7th, 2020 |
| Image | Event | Start Date | End Date |
| --- | --- | --- | --- |
| | ARK: Valentine's Day 3 | February 13th, 2018 | February 16th, 2018 |
| | ARK: Eggcellent Adventure 3 | March 29th, 2018 | April 10th, 2018 |
| | ARK: ARKaeology | June 15th, 2018 | July 17th, 2018 |
| | Extinction Chronicles | June 19th, 2018 | November 6th, 2018 |
| | ARK: Winter Wonderland 3 | December 18th, 2018 | January 7th, 2019 |
Image
Event
Start Date
End Date
ARK: Valentine's Day 2
February 12th, 2017
February 20th, 2017
ARK: Eggcellent Adventure 2
April 15th, 2017 for PC
April 26th, 2017 for Xbox & PS4
April 22nd, 2017 for PC
March 3rd, 2017 for Xbox & PS4
ARKs Two Year Anniversary
June 2nd, 2017
June 5th, 2017
The Witches Curse
October 30th, 2017
November 1st, 2017
Holiday Event
December 23rd, 2017
January 1st, 2018
Image
Event
Start Date
End Date
ARK: Valentine's Day
February 14th, 2016
February 22nd, 2016
ARK: Eggcellent Adventure
March 25th, 2016
March 31st, 2016
ARK: Survival Devolved
April 1st, 2016
April 2nd, 2016
ARK: Awesome Anniversary
June 2nd, 2016
June 13th, 2016
ARKdependence Day
July 3rd, 2016
?
ARK: Fear Evolved 2
October 28th, 2016
November 6th, 2016
ARK: Turkey Trial 2
November 15th, 2016 for Xbox
November 24th, 2016 for PC
December 1st, 2016
ARK: Winter Wonderland 2
December 23th, 2016
December 30th, 2016
New Year's on ARK
December 31st, 2016
January 1st, 2017
Gallery
[
]
Notes
[
]
Unlike its predecessors, ARK: Winter Wonderland 3 does not feature the  DodoRex.
Unlike its predecessors, ARK: Winter Wonderland 3 does not change the maps into snowy terrain.
Unlike its predecessors, in ARK: Winter Wonderland 3 crafting the event items is not possible in the  Cooking Pot or  Smithy, it solely works with  GachaClaus.
RaptorClaus flies just below or above the top of the map. When it flies above the map boundary, sometimes presents are not dropping.
The event isn't available for Total Conversions Mods/DLCs like Primitive Plus.
The hours during which Raptor Claus flies can vary from what is posted above. This has only been confirmed for Single Player on The Island where Night Time duration is sped up and Raptor Claus flies until near dawn.
Christmas Gacha may also grant crystals with one Mistletoe or Coal from RaptorClaus gift boxes