This article is about content exclusive to the

Event:

Winter Wonderland 4
This content is not available outside of this Event.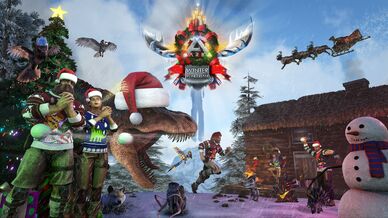 While Winter Wonderland is active, you'll have a chance to collect over 50 ARK chibi pets. ARK chibi pets are cute miniaturized versions of the creatures you have become familiar with in your travels across the ARK universe. Chibi pets can be leveled up by killing specific alpha creatures and in return, you'll be granted additional player levels. Some chibi pets may be harder to find so you'll have to visit GachaClaus and RaptorClaus to find all the chibi pets! Can you collect them all?
Start date
December 17th, 2019
End date
January 7th, 2020
ARK: Winter Wonderland 4 was an ARK: Survival Evolved winter event. ARK: Winter Wonderland 4 is the sequel to ARK: Winter Wonderland 3 that took place in 2018.
This Event can be manually activated with the server console parameter: -activeevent=WinterWonderland.
Overview
[
]
During the Event,

 Raptor Claus flies between 0 and 2 o'clock (12midnight-2am) in-game time in a straight line over all maps, dropping presents containing

 Mistletoe,

 Coal, and various resources, loot and blueprints for high-quality equipment. On the Aberration map, they only fly across the SW surface area, accessible from the cave at coordinates 52.3, 23.3.

 GachaClaus roams around the maps in Winter Wonderland 4 wherever

 Parasaurs can be found. When fed 1 × 

 Coal or 1 × 

 Mistletoe they produce

 Gacha Crystals containing high-quality equipment (Armor and Weapons) and Winter Wonderland Event items, see below. To feed

 GachaClaus, stand next to it and access the inventory, then move 1 × 

 Coal or 1 × 

 Mistletoe to its inventory at a time. You can put up to 5 coal in to get better/rarer items. It will then drop a special

 Gacha Crystal 

containing your gift! For the mistletoe, only 1 is required, more than 1 will not get you better results.
Content
[
]
Rates
[
]
Colors
[
]
Red

Green

Light Grey

Light Red

Dark Green

Dark Red

Dino Light Red

Dino Light Green

Dino Medium Green

Dino Albino

NearWhite
Creatures
[
]
Items
[
]
Chibis
[
]
Winter Wonderland 4 introduced 54 Chibi-Pets, which reappear in every festive event since:
Spotlight
[
]
Calendar
[
]
| Image | Event | Start Date | End Date |
| --- | --- | --- | --- |
| | ARK: Happy New Year! | January 1st, 2021 | January 1st, 2021 |
| | ARK: Love Evolved 2 | February 11th, 2021 | February 18th, 2021 |
| | ARK: Eggcellent Adventure 6 | March 31st, 2021 | April 14th, 2021 |
| | ARK: Summer Bash 2021 | June 30th, 2021 | July 21st, 2021 |
| | ARK: Fear Evolved 5 | October 26th, 2021 | November 9th, 2021 |
| | ARK: Extra Life 2021 | November 6th, 2021 | November 7th, 2021 |
| | ARK: Turkey Trial 5 | November 23rd, 2021 | December 7th, 2021 |
| | ARK: Winter Wonderland 6 | December 14th, 2021 | January 6th, 2022 |
| Image | Event | Start Date | End Date |
| --- | --- | --- | --- |
| | ARK: Love Evolved | February 11th, 2020 | February 18th, 2020 |
| | ARK: Eggcellent Adventure 5 | April 7th, 2020 | April 21st, 2020 |
| | ARK: 5th Anniversary | June 11th, 2020 | June 24th, 2020 |
| | ARK: Summer Bash 2020 | June 25th, 2020 | July 21st, 2020 |
| | ARK: Fear Evolved 4 | October 22nd, 2020 | November 6th, 2020 |
| | Genesis 2 Chronicles | November 7th, 2020 | March 24th, 2021 |
| | ARK: Turkey Trial 4 | November 24th, 2020 | December 8th, 2020 |
| | ARK: Winter Wonderland 5 | December 17th, 2020 | January 7th, 2021 |
| Image | Event | Start Date | End Date |
| --- | --- | --- | --- |
| | ARK: Valentine's Day 4 | February 12th, 2019 | February 18th, 2019 |
| | ARK: Eggcellent Adventure 4 | April 16th, 2019 | April 30th, 2019 |
| | ARK: Summer Bash 2019 | July 2nd, 2019 | July 19th, 2019 |
| | Genesis Chronicles | October 10th, 2019 | February 25th, 2020 |
| | ARK: Fear Evolved 3 | October 22nd, 2019 | November 5th, 2019 |
| | ARK: Turkey Trial 3 | November 19th, 2019 | December 6th, 2019 |
| | ARK: Winter Wonderland 4 | December 18th, 2019 | January 7th, 2020 |
| Image | Event | Start Date | End Date |
| --- | --- | --- | --- |
| | ARK: Valentine's Day 3 | February 13th, 2018 | February 16th, 2018 |
| | ARK: Eggcellent Adventure 3 | March 29th, 2018 | April 10th, 2018 |
| | ARK: ARKaeology | June 15th, 2018 | July 17th, 2018 |
| | Extinction Chronicles | June 19th, 2018 | November 6th, 2018 |
| | ARK: Winter Wonderland 3 | December 18th, 2018 | January 7th, 2019 |
Image
Event
Start Date
End Date
ARK: Valentine's Day 2
February 12th, 2017
February 20th, 2017
ARK: Eggcellent Adventure 2
April 15th, 2017 for PC
April 26th, 2017 for Xbox & PS4
April 22nd, 2017 for PC
March 3rd, 2017 for Xbox & PS4
ARKs Two Year Anniversary
June 2nd, 2017
June 5th, 2017
The Witches Curse
October 30th, 2017
November 1st, 2017
Holiday Event
December 23rd, 2017
January 1st, 2018
Image
Event
Start Date
End Date
ARK: Valentine's Day
February 14th, 2016
February 22nd, 2016
ARK: Eggcellent Adventure
March 25th, 2016
March 31st, 2016
ARK: Survival Devolved
April 1st, 2016
April 2nd, 2016
ARK: Awesome Anniversary
June 2nd, 2016
June 13th, 2016
ARKdependence Day
July 3rd, 2016
?
ARK: Fear Evolved 2
October 28th, 2016
November 6th, 2016
ARK: Turkey Trial 2
November 15th, 2016 for Xbox
November 24th, 2016 for PC
December 1st, 2016
ARK: Winter Wonderland 2
December 23th, 2016
December 30th, 2016
New Year's on ARK
December 31st, 2016
January 1st, 2017