| | |
| --- | --- |
| | Note: This page is for users to propose changes for the (link temporarily removed). The Main Page is a potential target for mass vandalism, but we want every user to be able to contribute to the wiki. |

Welcome to the ARK: Survival Evolved Wiki
Also check out the wiki in other languages:
Deutsch  •  Español  •  Français  •  Italiano  •  日本語  •  Polski  •  Português do Brasil  •  Русский  •  ไทย
See the latest

Patch Notes, or check below.
What is ARK: Survival Evolved?
As a man or woman stranded, naked, freezing, and starving on the unforgiving shores of a mysterious island called ARK, use your skill and cunning to kill or tame and ride the plethora of leviathan dinosaurs and other primeval creatures roaming the land. Hunt, harvest resources, craft items, grow crops, research technologies, and build shelters to withstand the elements and store valuables, all while teaming up with (or preying upon) hundreds of other players to survive, dominate... and escape!
The game was released on August 29th, 2017 after being over two years in 'Early Access' and is available on
Steam
, the
Xbox Live Marketplace
, PlayStation 4, mobile devices, the Nintendo Switch, and the
Epic Games Store
with continually new updates in the open-world dinosaur survival game.
Recently Revealed Creatures
477 creatures have been announced: 470 of them released (including 294 variants) and 7 yet to be released.
Current Events
The following Events are currently active or have been announced.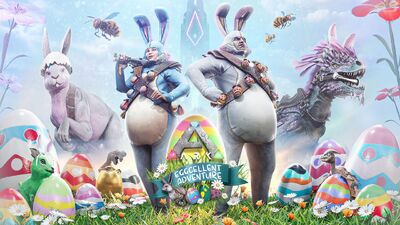 ARK: Eggcellent Adventure 7 has ended.
ARK: Eggcellent Adventure 7 features 3x XP, Harvesting, Taming, and Breeding (Imprint, Maturation, Hatch/Gestation), 0.5x Mating Interval, 1.5x Hexagon Bonus.
Current Patch Notes
See all patch notes
Steam, Epic Games and Stadia
Version: 345.19

[
Hide
]
Released - April 15th, 2022 -Minor version for servers
Fixed the missing Eggcellent Adventure event wild creature colors (59, 67, 68, 76 ,84, 94, 95 & 100)
Xbox and Windows 10
Version: 946.4

[
Hide
]
Released - April 15th, 2022 - Minor version for servers
Fixed the missing Eggcellent Adventure event wild creature colors (59, 67, 68, 76 ,84, 94, 95 & 100)
PlayStation
Version: 702.4

[
Hide
]
Released - April 15th, 2022 - Minor version for servers
Fixed the missing Eggcellent Adventure event wild creature colors (59, 67, 68, 76 ,84, 94, 95 & 100)
App Store and Google Play
Version: 2.0.25

[
Hide
]
Released - June 9th, 2021
Fixed some bugs and exploits
Nintendo Switch
Version: 600.0

[
Hide
]
Released - December 18th, 2018
Fix for two client lock up issues