This article is about Catapult Turret, not to be confused with
 Auto Turret,

 Heavy Auto Turret,
 Ballista Turret,

 Minigun Turret,

 Rocket Turret,

 Tek Turret, or

Eerie Turret

---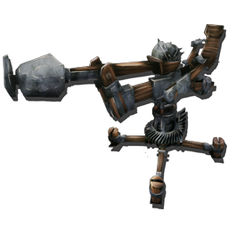 | | | |
| --- | --- | --- |
| " | Mount this to throw destructive Boulders at your enemies, particularly effective against Structures. | " |
Ammo used

Boulder
Spawn Command
cheat gfi TurretCat 1 0 0
or
cheat giveitem "Blueprint'/Game/PrimalEarth/CoreBlueprints/Items/Structures/Misc/PrimalItemStructure_TurretCatapult.PrimalItemStructure_TurretCatapult'" 1 0 0
The Catapult Turret is a stationary turret that fires

 Boulders at enemies. Players must mount the turret to control and fire it.
Notes
[
]
The weight of the materials is incredible and will quickly encumber even the largest of dinos that aren't designed to take the load. The Catapult Turret is much lighter once assembled.
In mobile version Catapult can damage Raft at 175 damage only (tested on 19 January 2022).
The Catapult Turret is treated as a stone structure and can only be damaged by:
These can damage stone, but can not damage auto turrets:
The Catapult turret can be used to knock out the following creatures, for the

 Titanosaur and the

 Rock Golem use

 Cannon:tame
For more information on Paint Regions and how to use them, please view the
Dye,
 Paintbrush, or

 Spray Painter pages.
Changelog
[
]
| Patch | Changes |
| --- | --- |
| 223.0 | Catapult Turret is added to the game. |
| 313.30 | Fixed a bug which prevented catapults from applying damage when shooting boulders. |
Weapons
For a side-by-side comparison of all weapons, see the Weapons page! For a comparison of reload and draw times, see Weapon Mechanics!
 Melee
 Ranged

 Ammunition

 Tools
 Emplacements
 Explosives
 Traps
 Spawnables
Structures
Primitive

Industrial

 Crafting
Production
Power
Storage
Furniture
Weaponry
Elevator
Vehicles

Tek

 Crafting
Production
Power
Storage
Furniture
Weaponry
Vehicles

Other