| | |
| --- | --- |
| | This article is about content exclusively available in the version on Steam, Xbox, PlayStation, Nintendo Switch, Epic Games, Stadia. |
Spawn Command
cheat giveitem "Blueprint'/Game/PrimalEarth/CoreBlueprints/Items/Armor/Leather/PrimalItem_Skin_Account_WildcardAdmin.PrimalItem_Skin_Account_WildcardAdmin'" 1 0 0
The Fan Ballcap Skin can be applied to any piece of headgear. It looks like a red baseball cap with a white card (resembling the Studio Wildcard logo) at the front.
This skin was exclusive to Studio Wildcard admins and not available to players. In Version 273.55 it became available as content of supply drops during The Witches Curse event.
Notes
[
]
The name of this skin before v273.55 was "ARK Wildcard Admin Hat Skin"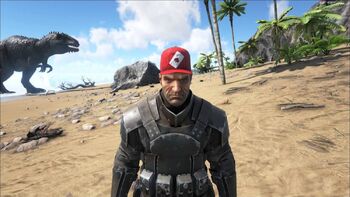 Skins & Emotes
Clothing

Aberrant Helmet

 • 

Alpha Raptor Swimsuits

(

Bottom

,

Top

)  • 

Angler Hat

 • 

Araneo Swimsuits

(

Bottom

,

Top

)  • 

ARK Tester Hat

 • 

Birthday Suit Armor

(

Pants

,

Shirt

)  • 

Bone Helmets

(

Rex

,

Trike

)  • 

Bonnet Hat

 • 

Bulbdog Mask

 • 

Bunny Ears

 • 

Bunny Tail

 • 

Captain's Hat

 • 

Chieftan Hat

 • 

Chili Helmet

 • 

Clown Mask

 • 

Crab Fest Swimsuits

(

Bottom

,

Top

)  • 

Cupid Couture

(

Bottom

,

Top

)  • 

Dilo Mask

 • 

Dino Ornament Swimsuits

(

Bottom

,

Top

)  • 

Cute Dino Helmet

 • 

Dodo Pie Swimsuits

(

Bottom

,

Top

)  • 

DodoRex Mask

 • 

Dodorex Swimsuits

(

Bottom

,

Top

)  • 

DodoWyvern Mask

 • 

Easter Chick Hat

 • 

Easter Egg Hat

 • 

Easter Egghead

 • 

Fan Ballcap

 • 

Felt Reindeer Antlers

 • 

Fish Bite Swimsuits

(

Bottom

,

Top

)  • 

Floppy Straw Summer Hat

 • 

Floral Swimsuits

(

Bottom

,

Top

)  • 

Giga Poop Swimsuits

(

Bottom

,

Top

)  • 

Halo Headband

 • 

Hawaiian Shirts

(

Bulbdog-Print

,

Dodorex-Print

,

Gasbags-Print

,

Ice Pop-Print

,

Jack-O-Lantern-Print

,

Murder-Turkey-Print

,

Patterns

,

Reaper-Print

,

Sea Life-Print

)  • 

Headless Costume

 • 

Hockey Mask

 • 

Hunter Hat

 • 

Ichthy Isles Swimsuits

(

Bottom

,

Top

)  • 

Jack-O-Lantern Swimsuits

(

Bottom

,

Top

)  • 

Jerboa Wreath Swimsuits

(

Bottom

,

Top

)  • 

Love Shackles

 • 

Marshmallow Hat

 • 

Master Controller Helmet

 • 

Meat Swimsuits

(

Bottom

,

Top

)  • 

Murder Turkey Swimsuits

(

Bottom

,

Top

)  • 

Nerdry Glasses

 • 

Noglin Swimsuits

(

Bottom

,

Top

)  • 

Onyc Swimsuits

(

Bottom

,

Top

)  • 

Otter Mask

 • 

Party Hat

 • 

Pilgrim Hat

 • 

Poglin Mask Skin

 • 

Reaper Helmet

 • 

Reaper Swimsuits

(

Bottom

,

Top

)  • 

Safari Hat

 • 

Santa Hat

 • 

Scary Pumpkin Helmet

 • 

Scary Skull Helmet

 • 

Skelly-Print Shirt

 • 

Sunglasses

(

Heart-shaped

,

Normal

,

Retro

)  • 

Survivor's Hat

 • 

Swimsuit patterns

 • 

T-Rex Swimsuits

(

Bottom

,

Top

)  • 

Tentacle-Print Shirt

 • 

Top Hat

 • 

Turkey Hat

 • 

Turkey Swimsuits

(

Bottom

,

Top

)  • 

Ugly Sweaters

(

Bronto

,

Bulbdog

,

Carno

,

Caroling

,

Chibi

,

Cornucopia

,

Dodo's Revenge

,

Foliage Friends

,

Noglin Regift

,

Raptor Claws

,

Rockwell

,

Turkey Target

,

T-Rex

,

Trike

)  • 

Uncle Sam Hat

 • 

Vampire Dodo Swimsuits

(

Bottom

,

Top

)  • 

Vampire Eyes

 • 

Werewolf Mask

 • 

Winter Beanies

(

Blue

,

Gray

,

Green

,

HLN-A

,

Noglin Regift

,

Raptor Sleighing

,

Purple

,

Purple

,

Red

,

Snowy

)  • 

Witch Hat

 • 

Wizard Ballcap

 • 

Wyvern Gloves

 • 

Yeti Swimsuits

(

Bottom

,

Top

)  • 

Zombie Wyvern-Print Shirt

 • 

ZombDodo-Print Shirt

Costumes

Bionic Creatures

(

Giga

,

Mosasaurus

,

Parasaur

,

Quetzal

,

Rex

,

Raptor

,

Stegosaurus

,

Triceratops

)  • 

Bone Creatures

(

Bronto

,

Carno

,

Giganotosaurus

,

Jerboa

,

Quetzalcoatlus

,

Raptor

,

Rex

,

Stego

,

Trike

,

Wyvern

)  • 

Brachiosaurus

 • 

Bunny Costume

 • 

Canoe

(

Modern

,

Tek

,

Viking

)  • 

Ghost Creatures

(

Basilisk

,

Bulbdog

,

Direwolf

,

Mantis

,

Reaper

,

Rex

,

Snow Owl

)  • 

Inflatable T-Rex

 • 

Megaloceros Reindeer

 • 

Procoptodon Bunny

 • 

Parasaur 'ARK: The Animated Series

 • 

Raptor 'ARK: The Animated Series'

 • 

Santa

 • 

Skeleton

 • 

Strawman

 • 

Stygimoloch

 • 

Styracosaurus

Armor sets

Corrupted Armor

(

Boots

,

Chestpiece

,

Gloves

,

Helmet

,

Pants

)  • 

Corrupted Avatar Armor

(

Boots

,

Gloves

,

Helmet

,

Pants

,

Shirt

)  • 

Federation Exo Armor

(

Boots

,

Leggings

,

Chestpiece

,

Gloves

,

Helmet

)  • 

HomoDeus Armor

(

Boots

,

Gloves

,

Helmet

,

Pants

,

Shirt

)  • 

Manticore Armor

(

Boots

,

Chestpiece

,

Gauntlets

,

Helmet

,

Leggings

,

Shield

)

Saddles
Weapons
Hairstyle
Emotes