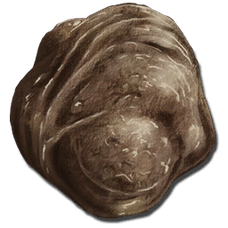 | | | |
| --- | --- | --- |
| " | Everyone Poops. Can provide nitrogen to help crops grow in their plots. Would be more efficient  Fertilizer if combined with  Thatch in  Compost Bin. | " |
Spawn Command
cheat giveitem "Blueprint'/Game/PrimalEarth/CoreBlueprints/Items/Consumables/BaseBPs/PrimalItemConsumablePoop.PrimalItemConsumablePoop'" 1 0 0
Feces are produced by all terrestrial , aerial creatures, and humans in intervals, depending on the amount they eat.
Usage
[
]
Fertilizer
Feces can be used to produce
 Fertilizer, which can be placed on Crop Plots to grow crops. Feces alone can be used as Fertilizer, however, it is more effective to turn them into Fertilizer, which gives 54,000 fertilizer points.
To create one bag of Fertilizer, 3 × 

 Feces must be placed in a

 Compost Bin along with 50 × 

 Thatch. After around 50 minutes these ingredients are turned to Fertilizer. They can also be converted more efficiently by a

 Dung Beetle, which converts Feces into Fertilizer in 15 minutes (along with

 Oil) and produces up to nine times as much.
Food
Feces can be eaten as it is technically classified as food. When ingested, Feces will do damage to the

 Health Pool.
Acquiring
[
]
All non-aquatic creatures produce feces. Feeding a Phiomia or Roll Rat stimberries can create a lot of feces in short time.
Feces Types
[
]
Fertilization Comparison
[
]
* When a plant has its maximum of fruits, it needs less fertilizer. As the fruits spoil after some time, leaving the plant in a non-full state for some time, these numbers are rather theoretical maximums.
Creatures
[
]
When Eaten
[
]
Notes/Trivia
[
]
The  Karkinos,  Titanoboa,  Beelzebufo,  Basilisk,  Araneo,  Arthropluera,  Basilosaurus,  Ichthyosaurus,  Mosasaur,  Plesiosaur,  Electrophorus,  Manta,  Megalodon,  Anglerfish,  Dunkleosteus, and  Mantis do not produce feces.

However, in the real world every species of reptiles, fish, insects, crustaceans, amphibians and whales all produce feces.
Feces was originally intended as a way for players to kill themselves when stuck or trapped.