Fur Armor is a mid-tier armor that offers moderate physical protection and extreme protection from cold weather, but makes the wearer much more susceptible to heat. Each piece provides 40 armor, for a total of 200 with a full set.
Crafting
[
]
The armor is made primarily from
 Pelt, Hair, or Wool, which can be harvested from the following creatures:
The resource cost for a full set of Fur Armor is
Resources breakdown
Usage
[
]
Fur Armor is incredibly heavy, with a full set having a total weight of 34. This makes it difficult to transport large amounts of goods while wearing or carrying the armor.
A full set of Fur Armor provides 249 cold protection and -109 heat protection, making it much easier to survive in the Snow Biome, but difficult to use anywhere else. Despite the cold protection provided by the armor it is still possible to freeze to death in the Snow Biome, or the Snow Cave. Remember not to ignore your Fortitude and heat sources, if you venture within.
The armor provides no hypothermic protection while the player is in the water.
Spawn Command
[
]
Use this command to give yourself a full set of Fur Armor
Spawn Command
cheat giveitem "Blueprint'/Game/PrimalEarth/CoreBlueprints/Items/Armor/Fur/PrimalItemArmor_FurHelmet.PrimalItemArmor_FurHelmet'" 1 0 0 | cheat giveitem "Blueprint'/Game/PrimalEarth/CoreBlueprints/Items/Armor/Fur/PrimalItemArmor_FurShirt.PrimalItemArmor_FurShirt'" 1 0 0 | cheat giveitem "Blueprint'/Game/PrimalEarth/CoreBlueprints/Items/Armor/Fur/PrimalItemArmor_FurGloves.PrimalItemArmor_FurGloves'" 1 0 0 | cheat giveitem "Blueprint'/Game/PrimalEarth/CoreBlueprints/Items/Armor/Fur/PrimalItemArmor_FurPants.PrimalItemArmor_FurPants'" 1 0 0 | cheat giveitem "Blueprint'/Game/PrimalEarth/CoreBlueprints/Items/Armor/Fur/PrimalItemArmor_FurBoots.PrimalItemArmor_FurBoots'" 1 0 0
Gallery
[
]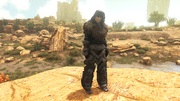 Notes
[
]