The Giant Bee (jai-ahnt-bee) is one of the Creatures in ARK: Survival Evolved.
Basic Info
[
]
Dossier
[
]
This section is intended to be an exact copy of what the survivor Helena Walker, the author of the dossiers, has written. There may be some discrepancies between this text and the in-game creature.

"
Species
Apis lithohermaea
Time
Middle Miocene
Diet
Herbivore
Temperament
Territorial
Wild
In the wild, Apis lithohermaea Drones never stray far from their nests, which they build high in the Island's Redwood trees or on rocky cliffsides. Apis Drones can be seen swarming around the nest in groups, but to get a look at the Queen Apis, one would need to crack open the nest itself. Speaking from experience, this is not a pleasant task, as the untameable Apis Drones are quite territorial. I probably should have seen that one coming, in hindsight. Take caution: Apis stings will significantly weaken any creature which suffers them, and because its stinger is not barbed, Apis can sting multiple times without its stinger being ripped away.
Domesticated
A tamed Apis Queen will lay new drone eggs, and construct a nest that survivors can farm for honey, so long as they remember to wear specialized bee-keeping gear. Said honey is not only sweet and delicious, but laced with scents that land mammals find irresistible. Many hunters use it to bait their traps. Apis Drones will also follow their Queen into battle, so they can be used for self-defense in a pinch.
"
Behavior
[
]
General: The entity that is the Giant Bee consists of the Queen Bee and the drone (called Giant Bee in game). Queen Bees and Drones appear when a wild beehive is damaged or destroyed.
Queen: The Queen Bee is the center of the Giant Bee entity. She is the larger of the two that players will encounter. When she spawns into the world, she automatically becomes a hive. Note that the Queen may despawn shortly after spawning in and turning into a hive, even when she is spawned in by a player. Wild Queens will spawn drones to protect her while she flees from the recently destroyed hive, and will keep spawning them after tamed. Once tamed, she can be interacted with like other pets but she does not gain XP and cannot level up past the post tame additional levels. (+2 max on a private game) She tends to spawn at level 5. She has an inventory that can have items placed in it, and a food bar but it does not drain very fast. From tests, she can eat both raw meat and Rare Flowers, but seems to require hand feeding. The Queen will continuously spawn drones that seemingly do not count towards the player's tame count, as they do not show up as red in the kill feed if killed by the owning player or fellow tribe members.
Drones: Drones are smaller of the two Giant Bees. They will spawn from inside a wild hive and will swarm any attackers. Once the Queen is tamed, they can be interacted with the exception of having an inventory or a progression system. They can and will protect the player if their aggression is not set to Passive. They can also follow the player, but only a certain distance before returning to the Queen. Giant Bee drones can be uploaded to a Beacon or Obelisks, and can be redownloaded. If they are downloaded, they will be severed from the Queen and can be used as guard dogs. However, like Forcetamed

Titanoboa, they cannot be fed or leveled up, and will despawn when the player reloads the same world. Drones cannot be acquired from a tamed hive, and are only produced by a tamed Queen. She will only produce a certain amount, and the Drones seem to have lifespans. Sometimes they will live for 30 minutes or so and sometimes they will die en masse within a few seconds of spawning.
Appearance
[
]
Color Scheme and Regions
[
]
Displayed are the Queen Bee's natural colors. The drone bees it spawns have different colorization.
This section displays the Giant Bee's natural colors and regions. For demonstration, the regions below are colored red over an albino Giant Bee. The colored squares shown underneath each region's description are the colors that the Giant Bee will randomly spawn with to provide an overall range of its natural color scheme. Hover your cursor over a color to display its name and ID.
This information can be used to alter the Giant Bee's regions by entering cheat SetTargetDinoColor <ColorRegion> <ColorID> in the cheat console. For instance, cheat SetTargetDinoColor 0 6 would color the Giant Bee's "body highlights" magenta.

Region 0:
Dark All

Region 1 is not used
for this Creature.

Region 2:
Dark All

Region 3 is not used
for this Creature.

Region 4:
Dark All

Region 5:
Dark All
Drops
[
]
Base Stats and Growth
[
]
Attribute

Base Value

Level Increase
Taming Bonus
Wild

Tamed

Additive
Multiplicative
Health
80
+16
+5.4%
0.07
Stamina
200
+20
+10%
Oxygen
150
+15
+10%
Food
450
+45
+10%
Weight
150
+3
+4%
Melee Damage

8

+0.4
+1.7%
7%
17.6%
Movement Speed
100%

N/A

+1%
Torpidity
400
+24

N/A

0.5
Movement
Base Speed
Sprinting Speed

Stamina

Wild
Tamed
Wild
Tamed
Walking
600
?
600
600
5
Swimming
200
?
?
?
?
Flying
600
?
600
600
?
Attack Values
Bite (Drone Bee)

Stamina Cost

Attack Range
Description
Base
Minimum
Activation
The bee drones (not the Queen) bite the target.
0
65
0
100
Attack Type

Damage

Projectile Values
Torpor Values

Status Effect: Stamina

Status Effect: Torpidity

Life

Impulse
Radius
Base
Mult
Duration
Damage Mult
Amount
Duration
Damage Mult
Amount

Melee

8
Sting (Drone Bee)

Stamina Cost

Attack Range
Description
Base
Minimum
Activation
The bee drones (not the Queen) sting the target. This attack will remove players from their mounts.
0
65
0
100
Attack Type

Damage

Projectile Values
Torpor Values

Status Effect: Stamina

Status Effect: Torpidity

Life

Impulse
Radius
Base
Mult
Duration
Damage Mult
Amount
Duration
Damage Mult
Amount

Melee

8
Attribute

Base Value

Level Increase
Wild
Health
200
+40
Stamina
200
+20
Oxygen
150
+15
Food
450
+45
Weight
150
+3
Melee Damage

12

+0.6
Movement Speed
100%

N/A

Torpidity
400
+24
| Movement | Base Speed | Sprinting Speed |
| --- | --- | --- |
| Walking | 130 | 195 |
| Swimming | 600 | N/A |
| Flying | 600 | 900 |
Attack Values
Bite (Drone Bee)

Stamina Cost

Attack Range
Description
Base
Minimum
Activation
The bee drones (not the Queen) bite the target.
0
65
0
100
Attack Type

Damage

Projectile Values
Torpor Values

Status Effect: Stamina

Status Effect: Torpidity

Life

Impulse
Radius
Base
Mult
Duration
Damage Mult
Amount
Duration
Damage Mult
Amount

Melee

8
Sting (Drone Bee)

Stamina Cost

Attack Range
Description
Base
Minimum
Activation
The bee drones (not the Queen) sting the target. This attack will remove players from their mounts.
0
65
0
100
Attack Type

Damage

Projectile Values
Torpor Values

Status Effect: Stamina

Status Effect: Torpidity

Life

Impulse
Radius
Base
Mult
Duration
Damage Mult
Amount
Duration
Damage Mult
Amount

Melee

8
Wild Stats Level-up
Type in values of a wild creature to see on which stats it's emphasized. Green values on a high-level creature are very good for breeding. If you have already tamed your creature you can try to recover the breeding-stats with an external tool.[1]
Giant Bee
The stat-calculator does not work in the mobile-view, see here for alternatives: Apps
Note that after the creature is tamed it gets bonuses on some stats depending on the taming effectiveness. This makes it hard to retrieve the levels on a tamed creature, so this tool is only for wild ones, but gives a first impression, how well the stats are distributed.
Combat
[
]
This section describes how to fight against the Giant Bee.
General
[
]
These things are pure annoyances. You choose when to engage (by destroying a wild beehive), so you can prepare with ample time to do so. Just don't be stupid, and don't walk into other creatures and you're fine.
Strategy
[
]
Performing a barrel roll with a

Pteranodon is a relatively safe way to destroy the hive without wasting too many resources such as bullets. If the barrel roll is aimed correctly, the Pteranodon can damage the hive with more damage than its regular attack, and the barrel roll also allows the rider to move past the hive fast enough in order to not get stung by the Drones. Just repeat a "hit and run" strategy with you Pteranodons's roll. Rocket Launchers are also great against wild hives. Another great way to destroy a hive is by using a
Dire Bear as Dire Bears have a passive buff that makes you and the Dire Bear immune to bees.
Weaponry
[
]
Ranged weapons and pikes or spears are effective against the drones.
Dangers
[
]
Stings will dismount riders and slow players, making them easy targets for the swarm. Their small size makes them difficult to hit at times, and they move at a fair pace, allowing them to chase any assailant attempting to raid the hive.
Weakness
[
]
The drones are fairly slow and have low health, making them easy targets for ranged weapons.
Taming
[
]
Level 1

Feeding Interval

Time
Simple Kibble
1
00:00
0:00:28
Raw Mutton
2
05:09
0:05:09
Cooked Lamb Chop
4
03:25
0:10:17
Raw Prime Meat
3
03:51
0:07:43
Rare Flower
3
05:47
0:11:35
Cooked Prime Meat
5
03:12
0:12:51
Raw Prime Fish Meat
6
01:32
0:07:43
Raw Meat
7
03:00
0:18:01
Cooked Prime Fish Meat
11
01:27
0:14:32
Cooked Meat
13
01:23
0:16:43
Raw Fish Meat
16
01:22
0:20:35
Cooked Fish Meat
32
00:39
0:20:35
Level 30

Feeding Interval

Time
Simple Kibble
2
00:55
0:00:55
Raw Mutton
3
03:51
0:07:43
Cooked Lamb Chop
5
03:12
0:12:51
Raw Prime Meat
3
03:51
0:07:43
Rare Flower
3
05:47
0:11:35
Cooked Prime Meat
6
03:05
0:15:25
Raw Prime Fish Meat
7
01:30
0:09:01
Raw Meat
9
02:53
0:23:09
Cooked Prime Fish Meat
14
01:25
0:18:30
Cooked Meat
17
01:22
0:21:52
Raw Fish Meat
21
01:21
0:27:01
Cooked Fish Meat
42
00:39
0:27:01
Level 60

Feeding Interval

Time
Simple Kibble
2
00:55
0:00:55
Raw Mutton
3
03:51
0:07:43
Cooked Lamb Chop
6
03:05
0:15:25
Raw Prime Meat
4
03:26
0:10:18
Rare Flower
4
05:08
0:15:26
Cooked Prime Meat
7
02:59
0:17:59
Raw Prime Fish Meat
9
01:26
0:11:35
Raw Meat
11
02:49
0:28:18
Cooked Prime Fish Meat
18
01:23
0:23:47
Cooked Meat
21
01:21
0:27:01
Raw Fish Meat
27
01:20
0:34:43
Cooked Fish Meat
53
00:39
0:34:05
Level 90

Feeding Interval

Time
Simple Kibble
2
00:55
0:00:55
Raw Mutton
4
03:26
0:10:18
Cooked Lamb Chop
7
02:59
0:17:59
Raw Prime Meat
5
03:13
0:12:52
Rare Flower
5
04:49
0:19:18
Cooked Prime Meat
9
02:53
0:23:08
Raw Prime Fish Meat
11
01:24
0:14:09
Raw Meat
13
02:47
0:33:26
Cooked Prime Fish Meat
21
01:23
0:27:45
Cooked Meat
26
01:20
0:33:26
Raw Fish Meat
32
01:19
0:41:09
Cooked Fish Meat
63
00:39
0:40:31
Level 120

Feeding Interval

Time
Simple Kibble
2
00:55
0:00:55
Raw Mutton
4
03:26
0:10:18
Cooked Lamb Chop
8
02:56
0:20:33
Raw Prime Meat
5
03:13
0:12:52
Rare Flower
5
04:49
0:19:18
Cooked Prime Meat
10
02:51
0:25:42
Raw Prime Fish Meat
13
01:23
0:16:43
Raw Meat
15
02:45
0:38:35
Cooked Prime Fish Meat
25
01:22
0:33:02
Cooked Meat
30
01:19
0:38:35
Raw Fish Meat
37
01:19
0:47:35
Cooked Fish Meat
74
00:39
0:47:35
Level 150

Feeding Interval

Time
Simple Kibble
3
00:41
0:01:23
Raw Mutton
5
03:13
0:12:52
Cooked Lamb Chop
9
02:53
0:23:08
Raw Prime Meat
6
03:05
0:15:26
Rare Flower
6
04:37
0:23:09
Cooked Prime Meat
12
02:48
0:30:50
Raw Prime Fish Meat
14
01:23
0:18:01
Raw Meat
17
02:43
0:43:43
Cooked Prime Fish Meat
28
01:22
0:37:00
Cooked Meat
34
01:19
0:43:43
Raw Fish Meat
42
01:19
0:54:01
Cooked Fish Meat
84
00:39
0:54:01
Note that the values are for optimal cases, always bring extra supplies!
For a level-dependent count of resources needed, try an external taming calculator.
Ingredients for

Simple Kibble: 1 × 

Cooked Fish Meat, 1 × 

Small Egg, 5 × 

Fiber, 5 × 

Mejoberry, 2 × 
Rockarrot, 1 × 

Water
Taming Strategy
[
]
Taming an Apis Queen is perhaps one of the most difficult and annoying tasks any survivor can experience, but with the proper knowledge, equipment, and animals to aid you in the endeavor; the difficulty and annoyance make way for what can be a relatively simple and easy effort.
The general taming process happens like this; first, make the Queen appear by destroying wild beehives. The Queen is passively tamed by getting near to her and feeding her a selection of her favored foods (a list of which is provided above, place the food item in your last slot on your action bar, and press E,

,

when the option is available), and this can only be done when the Drones surrounding her are calm and unaggressive towards you and any of your current tames nearby, but this is easier said than done. To get close enough without provoking the Drones, more often than not you require the aid of a

Ghillie Suit and

Bug Repellant, although it is not necessary if one decides to be swift about it. Once you have those, equip the Ghillie armor and spray on your repellent, then hold the crouch button to go prone. From there, you can crawl right up to her without angering the Drones, and proceed to feed her (Or just run up and Click E with kibble in your last slot, this will not require ghillie nor bug repellent.) However, these are not the only hurdles you have to jump before you can tame her, as things get much more complicated than that. In order to reach the Queen in the first place: the hive in which she lives must first be broken open. As a side note, some wild hives do not contain Queens, which can be identified with the complete absence of Drones defending them if you attack the hive. Secondly, you will occasionally encounter a hive that contains two to three Queens, or find multiple hives with their own separate Queen clipped into each other, but this is a rare occurrence.
Breaking open the hive can be done in any number of ways, from your own weaponry such as melee or firearms, or explosives, but by far the most effective strategy is to make use of tames to assist you. The tame required for this process varies per map and where the hive is located, but generally the best options are

Tapejara and Dimorphodon for hives located up on high cliffs or redwood trees (Tapejara: due to their flight and maneuverability, aids in spotting hives, positioning yourself properly to damage the hive, and killing the drones before they sting you. Dimorphodon, if they are available on the map, can be used to take the Tapejara's place for damaging the hive so that you don't have to risk getting stung and knocked off your flying mount, and because they are flyers; they can reach a hive no matter where it's at), and a Dire Bear for hives that are on the ground or near enough to it that ramps can be built to access the hive (because Dire Bears themselves are entirely immune to the dismounting and snaring status effect caused by the drone's stings, while their presence also largely prevents you yourself from getting stung). When the hive is attacked, one of two things will happen, depending on your tame's melee damage effectiveness: the hive will immediately break open and release the Queen who will start spawning drones to protect herself, or Drones will emerge from the damaged hive to sting and chase you off. If the hive was not broken open on the first hit and you aren't riding a Dire Bear or using Dimorphodon; retreat and put enough distance between you and the hive until the Drones despawn, then return and repeat this process until the hive is broken.
Once the hive has been busted and the Queen is released, then begins the true challenge, and the primary reason why taming her is so difficult; she permanently flies, and wanders around aimlessly flying downwards: allowing her to reach locations and heights where she is virtually impossible to be fed and tamed from, or be attacked by dangerous predators that can kill her. This challenge, however, can be entirely negated, and where the equipment you bring comes into play. To force her to stay still, you require a trap that can be opened for her to fly into, then closed to box her in. The trap you will build Depends on whether the hive is located high up on a tree or cliff, or on or near to the ground. For tree or cliff-based hives; build a 2x2 of wood/adobe or better trap consisting of 4 foundations, 8 door frames, 8 doors, and 1 giant hatchframe and giant trap door sitting at the top to act as a lid. For ground-based or near-ground hives; the same design can be repeated, only with taller walls and a dinosaur gateway and gate facing towards the hive. Alternatively, multiple Wooden Cages can be placed on the ground in various places, partially distanced from and surrounding the hive, to act as traps (though the Queen can be trapped in Wooden Cages, the Wooden Cage often makes it difficult to get your crosshair on her to feed her the taming food). Once your trap is built, however, she's not simply going to fly into it. The trap needs to be baited, and ironically, the best and only bait that will grab her attention and force her to move into your trap is the very thing you are taming her for:

Giant Bee Honey. (Needs confirmation, sources claim bee queens will not be tamed when considering themselves trapped, regardless this is quite a bit too much effort for a tame that's as simple as grabbing the kibble, running up, and clicking e.)
Before you begin the process of breaking open her hive; you should first collect some honey from it (if the hive is out of your reach a Grappling Hook will be required), which will yield you up to 5 free jars. Once you have the honey, place all five jars into slots on your action bar so that you can use them as bait, and position yourself within your trap (if it is a Wooden Cage instead of a box trap built out of structures, stand just outside it). Proceed to break the hive open, whistling to your tames to attack it (on Scorched Earth, there are no Dire Bears or Dimorphodon unless you transfer them, without transfers, you will be forced to use your Tapejara to reach the hive and break it open yourself), and once the Queen is exposed; immediately whistle for your tames to back off by either whistling them to passive, or directing them to flee to another spot, then drop a

Giant Bee Honey in the trap by using the slot on the action bar the honey is placed in (if the honey is dropped into the trap before her hive is broken open, she will ignore it). She will begin to fly towards the honey, but more often than not, her Drones tend to beat her to it. Following this, she will either pause for a few seconds, or continue flying towards the spot the honey was at before her Drones snatched it. If she pauses before entering the trap, drop another jar into the trap and repeat this until she either enters the trap, or you run out of honey. Once she enters the trap, she will pause for a few seconds after she reaches the honey; this is the moment where you need to close the dinosaur gate or giant trapdoor to shut her in. While you close the trap, if you still have some honey left over, drop another jar inside the trap to keep her in while door is still closing, for good measure. For the most effective results, make sure you have cleared the area surrounding the hive of other wild animals that can interfere and steal the bait before the Queen has a chance to get to it. Once she's shut in, the process of feeding her can begin; in the relative peace, ease, and safety of the trap.
Utility
[
]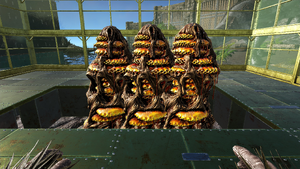 Having a tamed Apis Queen in your menagerie of tames is without a doubt one of the best advantages you can have as, much like Farming, your newly acquired

Bee Hive provides you with extremely beneficial, long-term results; a replenishing and easily accessed supply of

Giant Bee Honey, which can be used in a wide variety of purposes. Unlike a wild hive, which will always be aggressive to you, and will only yield up to 5 jars of honey per harvest that only starts to replenish every 15 minutes; your tamed hive can hold up to 45 jars of honey, producing about two jars roughly every hour. However, there is a catch; your tamed hive requires a supply of

Rare Flower to produce honey, and will slowly begin to degrade in structure health and break without flowers in its inventory. Thankfully, the production cost is very low, as the flowers are consumed at an extremely slow rate, about one per hour, and if the hive does break, your Queen will emerge from it; healthy and unharmed, able to be grabbed again to make a new hive that can be placed again when you are ready.
When tamed, there is a prompt displayed over the Queen Bee: "press E,

,

to obtain hive". When doing so, a

Bee Hive is placed in your inventory and the Queen disappears. The hive can then be placed like on the ground like a structure, but requires

Rare Flower to 'stay healthy', or it will break. When destroyed, the Queen that was used to build the

Bee Hive will respawn, and can then be used to create a new hive, which can be placed again when you have the flowers to fuel it. Once placed and loaded up with flowers, your hive will provide a consistent source of

Giant Bee Honey, at a rate of roughly two jars an hour. Withdrawing honey from your hive, however, can be a bit tricky, but nowhere near the effort that was required in order to tame your Queen in the first place. If you don't use the proper equipment when you access your hive's inventory, you will lose a small chunk of your health immediately, and receive the BEES! status effect, which slows your movement speed by 1/3rd and drains 10% of your total health over a few seconds. To avoid these hazards, you have a few options. A

Ghillie Suit will allow you to access the hive without getting the BEES! status effect, but you will still lose a chunk of your health from accessing the hive's inventory. To avoid both the immediate health penalty and the status effect, you can equip either

Bug Repellant or a full suit of Hazard Gear.
Honey Farm: The clear and most obvious purpose, the very reason you tamed a Bee Queen in the first place, is the honey. However, you'd be surprised by how many uses the honey has, some rather simple and obvious, and others more creative.
Spotlight
[
]
Video Tutorial
[
]
A quick tutorial on how to make a bee trap to get honey easier in the Redwoods.
Notes/Trivia
[
]
Dino Dossier revealed on 09/20/2016.[2]
The Giant Bee's scientific name Apis lithohermaea is that of an actual species of giant bee that dwelled in Miocene Japan. Of course, the real animal was much smaller at only 18 millimeters.[3]
The giant bee is the 3rd creature to have a queen, with the 1st being Araneo (Broodmother Lysrix), the 2nd being Titanomyrma, although the Titanomyrma queen is not currently in-game, the 4th one being Iceworm Male (Iceworm Queen), 5th one is Nameless (Reaper Queen) and 6th is Crystal Wyvern (Crystal Wyvern Queen).
The dossier referenced a possible apiarist armor however it was instead replaced with the ghillie armor
When a player-made hive is destroyed, the bee will be facing to the right of the original orientation of the hive.

Player-made hives in Aberration destroyed will not 'refund' Giant Bee. Be advised if you intend to transfer the bee to another map as Bee Hives cannot be transferred anywhere.
Additionally, cryopodding a Queen Bee will result in the bee being permanently stuck in the pod, as bees are not allowed into Aberration on default settings.

As of Patch 291.102 (PC) and 781.16, player created Beehives may be picked back up after ~5 seconds, giving the player their Beehive back as well as another Queen Bee being created.
Real Bees lay eggs, however Ark's Giant Bees do not.
The Giant Bee is the only non-Tek Creature in Aberration to not have a Aberrant variant.
Despite being enormous, the Giant Bee makes very little noise. Its buzzing sounds more like a helicopter than an actual bee.
In the real world, if there is a bee that is born different from the rest of the colony, that bee is fed a special type of food known as royal jelly. Royal jelly is only given to queens and is what turns a female bee into a queen.
In real life, bee drones are all male, and their sole purpose is to breed with the virgin queens born from several different hives. Drones also cannot sting. Only the female worker bees can.
At one point before being patched, the Giant Bee had an unintended attribute of being a light raiding weapon. Weighed down Queens could be used to spawn swarms of drones to attack creatures or bases without harming the Queen or risking the player's life. This was eventually changed so that the Queen cannot spawn drones if encumbered, and spawning drones drains her HP. She will not spawn anymore if her HP drops to 10%.
Changelog
[
]
Gallery
[
]
References
[
]
Creatures
Italics denote creatures that have not yet been released! See also Gallery of Dossiers.
Dinosaurs
Mammals and Synapsids
Reptiles and Amphibians
Birds
Fish
Invertebrates
Fantasy Creatures

Astrocetus

 • 

Astrodelphis

 • 

Basilisk

 • 

Bloodstalker

 • 

Bulbdog

 • 

Chalk Golem

 • 

Crystal Wyvern

(

Blood

,

Ember

,

Tropical

)  • 

Deathworm

 • 

Desert Titan Flock

 • 

Eel Minion

 • 

Featherlight

 • 

Ferox

(

Large

)  • 

Gacha

 • 

Glowtail

 • 

Griffin

 • 

Ice Golem

 • 

Iceworm Male

 • 

Insect Swarm

 • 

Karkinos

 • 

Lava Elemental

 • 

Macrophage

 • 

Maewing

 • 

Magmasaur

 • 

Managarmr

 • 

Megachelon

 • 

Morellatops

 • 

Nameless

 • 

Noglin

 • 

Parakeet Fish School

 • 

Phoenix

 • 

Ravager

 • 

Reaper

(

Elemental

,

King

,

Prince

,

Queen

,

Subterranean

,

Surface

)  • 

Rock Drake

 • 

Rock Elemental

 • 

Rubble Golem

 • 

Seeker

 • 

Shadowmane

 • 

Shinehorn

 • 

Summoner

 • 

Unicorn

 • 

Velonasaur

 • 

Voidwyrm

 • 

Wyvern

(

Fire

,

Forest

,

Ice

,

Lightning

,

Poison

)

Mechanical Creatures
Aberrant Creatures
Tek Creatures
Corrupted and Enraged Creatures
R-Creatures
VR Creatures
X-Creatures
Malfunctioned Tek Creatures
Alpha Creatures
Brute Creatures
Event Creatures
Bosses and Titans

Broodmother Lysrix

(

Gamma

,

Beta

,

Alpha

)  • 

Corrupted Master Controller

(

Gamma

,

Beta

,

Alpha

)  • 

Crystal Wyvern Queen

(

Gamma

,

Beta

,

Alpha

)  • 

Desert Titan

 • 

Dragon

(

Gamma

,

Beta

,

Alpha

)  • 

Experimental Giganotosaurus

 • 

Forest Titan

 • 

Ice Titan

 • 

King Titan

(

Gamma

,

Beta

,

Alpha

)  • 

Macro-Summoner

 • 

Manticore

(

Gamma

,

Beta

,

Alpha

)  • 

Megapithecus

(

Gamma

,

Beta

,

Alpha

)  • 

Moeder, Master of the Ocean

(

Gamma

,

Beta

,

Alpha

)  • 

Overseer

(

Gamma

,

Beta

,

Alpha

)  • 

Obsidioequus

 • 

Rockwell

(

Gamma

,

Beta

,

Alpha

)  • 

Rockwell Prime

(

Gamma

,

Beta

,

Alpha

)