Spawn Command
cheat giveitemnum 168 1 0 0
or
cheat giveitem "Blueprint'/Game/PrimalEarth/CoreBlueprints/Items/Structures/Metal/PrimalItemStructure_MetalFenceFoundation.PrimalItemStructure_MetalFenceFoundation'" 1 0 0
Cost
25 × 

Molds

Spawn Command
cheat giveitemnum 178 1 0 0
or
cheat giveitem "Blueprint'/Game/PrimalEarth/CoreBlueprints/Items/Structures/Metal/PrimalItemStructure_MetalWallWithWindow.PrimalItemStructure_MetalWallWithWindow'" 1 0 0
Cost
75 × 

Molds

Spawn Command
cheat giveitemnum 179 1 0 0
or
cheat giveitem "Blueprint'/Game/PrimalEarth/CoreBlueprints/Items/Structures/Metal/PrimalItemStructure_MetalWindow.PrimalItemStructure_MetalWindow'" 1 0 0
Spawn Command
cheat giveitemnum 166 1 0 0
or
cheat giveitem "Blueprint'/Game/PrimalEarth/CoreBlueprints/Items/Structures/Metal/PrimalItemStructure_MetalCeilingWithTrapdoor.PrimalItemStructure_MetalCeilingWithTrapdoor'" 1 0 0
Cost
110 × 

Molds

Spawn Command
cheat giveitemnum 175 1 0 0
or
cheat giveitem "Blueprint'/Game/PrimalEarth/CoreBlueprints/Items/Structures/Metal/PrimalItemStructure_MetalTrapdoor.PrimalItemStructure_MetalTrapdoor'" 1 0 0
Cost
45 × 

Molds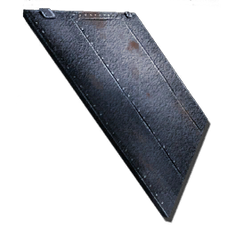 | | | |
| --- | --- | --- |
| " | An inclined metal-plated concrete floor for travelling up or down levels. Can also be used to make an angled roof. | " |
Spawn Command
cheat giveitemnum 174 1 0 0
or
cheat giveitem "Blueprint'/Game/PrimalEarth/CoreBlueprints/Items/Structures/Metal/PrimalItemStructure_MetalRamp.PrimalItemStructure_MetalRamp'" 1 0 0
Spawn Command
cheat giveitemnum 164 1 0 0
or
cheat giveitem "Blueprint'/Game/PrimalEarth/CoreBlueprints/Items/Structures/Metal/PrimalItemStructure_MetalCatwalk.PrimalItemStructure_MetalCatwalk'" 1 0 0
Spawn Command
cheat giveitemnum 261 1 0 0
or
cheat giveitem "Blueprint'/Game/PrimalEarth/CoreBlueprints/Items/Structures/Metal/PrimalItemStructure_MetalGateframe.PrimalItemStructure_MetalGateframe'" 1 0 0
Cost
650 × 

Molds

Spawn Command
cheat giveitemnum 262 1 0 0
or
cheat giveitem "Blueprint'/Game/PrimalEarth/CoreBlueprints/Items/Structures/Metal/PrimalItemStructure_MetalGate.PrimalItemStructure_MetalGate'" 1 0 0
| | | |
| --- | --- | --- |
| " | A large metal-plated concrete gateway, reinforced with obsidian polymer, that can be used with a Behemoth Gate to allow even the largest of creatures in or out. | " |
Spawn Command
cheat giveitemnum 171 1 0 0
or
cheat giveitem "Blueprint'/Game/PrimalEarth/CoreBlueprints/Items/Structures/Metal/PrimalItemStructure_MetalGateframe_Large.PrimalItemStructure_MetalGateframe_Large'" 1 0 0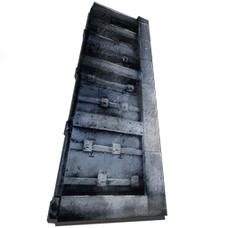 | | | |
| --- | --- | --- |
| " | A large metal-plated concrete gate that can be used with a Behemoth Gateway to allow even the largest of creatures in or out. | " |
Spawn Command
cheat giveitemnum 170 1 0 0
or
cheat giveitem "Blueprint'/Game/PrimalEarth/CoreBlueprints/Items/Structures/Metal/PrimalItemStructure_MetalGate_Large.PrimalItemStructure_MetalGate_Large'" 1 0 0
Spawn Command
cheat giveitem "Blueprint'/Game/PrimalEarth/CoreBlueprints/Items/Structures/Wooden/PrimalItemStructure_TreePlatform_Metal.PrimalItemStructure_TreePlatform_Metal'" 1 0 0
Required stations

Refining Forge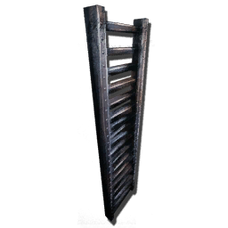 | | | |
| --- | --- | --- |
| " | A simple metal ladder used to climb up or down tall structures. Can also be used to extend existing ladders. | " |
Spawn Command
cheat giveitemnum 172 1 0 0
or
cheat giveitem "Blueprint'/Game/PrimalEarth/CoreBlueprints/Items/Structures/Metal/PrimalItemStructure_MetalLadder.PrimalItemStructure_MetalLadder'" 1 0 0
Spawn Command
cheat gfi Metal_CliffPlatform 1 0 0
or
cheat giveitem "Blueprint'/Game/Aberration/Structures/CliffPlatforms/Metal_CliffPlatform/PrimalItemStructure_Metal_CliffPlatform.PrimalItemStructure_Metal_CliffPlatform'" 1 0 0
Required stations

Refining Forge
Metal Structures are the fourth building tier in ARKs Building System.
Crafting
[
]
The Structures are primarily made of Metal, which can be harvested from rocks.
Usage
[
]
Mainly used to build a mid to high level base
Spawn Command
[
]
Use this command to give yourself a full set Metal structures.
Spawn Command
cheat giveitem "Blueprint'/Game/PrimalEarth/CoreBlueprints/Items/Structures/Metal/PrimalItemStructure_MetalFloor.PrimalItemStructure_MetalFloor'" 1 0 0 | cheat giveitem "Blueprint'/Game/PrimalEarth/StructuresPlus/Structures/Foundations/Triangle/Metal/PrimalItemStructure_TriFoundation_Metal.PrimalItemStructure_TriFoundation_Metal'" 1 0 0 | cheat giveitem "Blueprint'/Game/PrimalEarth/CoreBlueprints/Items/Structures/Metal/PrimalItemStructure_MetalFenceFoundation.PrimalItemStructure_MetalFenceFoundation'" 1 0 0 | cheat giveitem "Blueprint'/Game/PrimalEarth/StructuresPlus/Structures/FenceSupports/Metal/PrimalItemStructure_FenceSupport_Metal.PrimalItemStructure_FenceSupport_Metal'" 1 0 0 | cheat giveitem "Blueprint'/Game/PrimalEarth/CoreBlueprints/Items/Structures/Metal/PrimalItemStructure_MetalPillar.PrimalItemStructure_MetalPillar'" 1 0 0 | cheat giveitem "Blueprint'/Game/PrimalEarth/CoreBlueprints/Items/Structures/Metal/PrimalItemStructure_MetalWall.PrimalItemStructure_MetalWall'" 1 0 0 | cheat giveitem "Blueprint'/Game/PrimalEarth/StructuresPlus/Structures/Walls_L/Metal/PrimalItemStructure_LargeWall_Metal.PrimalItemStructure_LargeWall_Metal'" 1 0 0 | cheat giveitem "Blueprint'/Game/PrimalEarth/CoreBlueprints/Items/Structures/Roofs/Metal/PrimalItemStructure_MetalWall_Sloped_Left.PrimalItemStructure_MetalWall_Sloped_Left'" 1 0 0 | cheat giveitem "Blueprint'/Game/PrimalEarth/CoreBlueprints/Items/Structures/Roofs/Metal/PrimalItemStructure_MetalWall_Sloped_Right.PrimalItemStructure_MetalWall_Sloped_Right'" 1 0 0 | cheat giveitem "Blueprint'/Game/PrimalEarth/CoreBlueprints/Items/Structures/Metal/PrimalItemStructure_MetalWallWithDoor.PrimalItemStructure_MetalWallWithDoor'" 1 0 0 | cheat giveitem "Blueprint'/Game/PrimalEarth/StructuresPlus/Structures/Doorframes_Double/Metal/PrimalItemStructure_DoubleDoorframe_Metal.PrimalItemStructure_DoubleDoorframe_Metal'" 1 0 0 | cheat giveitem "Blueprint'/Game/PrimalEarth/CoreBlueprints/Items/Structures/Metal/PrimalItemStructure_MetalDoor.PrimalItemStructure_MetalDoor'" 1 0 0 | cheat giveitem "Blueprint'/Game/PrimalEarth/StructuresPlus/Doors/Doors_Double/Metal/PrimalItemStructure_DoubleDoor_Metal.PrimalItemStructure_DoubleDoor_Metal'" 1 0 0 | cheat giveitem "Blueprint'/Game/PrimalEarth/CoreBlueprints/Items/Structures/Metal/PrimalItemStructure_MetalWallWithWindow.PrimalItemStructure_MetalWallWithWindow'" 1 0 0 | cheat giveitem "Blueprint'/Game/PrimalEarth/CoreBlueprints/Items/Structures/Metal/PrimalItemStructure_MetalWindow.PrimalItemStructure_MetalWindow'" 1 0 0 | cheat giveitem "Blueprint'/Game/PrimalEarth/CoreBlueprints/Items/Structures/Metal/PrimalItemStructure_MetalRailing.PrimalItemStructure_MetalRailing'" 1 0 0 | cheat giveitem "Blueprint'/Game/PrimalEarth/CoreBlueprints/Items/Structures/Metal/PrimalItemStructure_MetalSpikeWall.PrimalItemStructure_MetalSpikeWall'" 1 0 0 | cheat giveitem "Blueprint'/Game/PrimalEarth/CoreBlueprints/Items/Structures/Metal/PrimalItemStructure_MetalCeiling.PrimalItemStructure_MetalCeiling'" 1 0 0 | cheat giveitem "Blueprint'/Game/PrimalEarth/StructuresPlus/Structures/Ceilings/Triangle/Metal/PrimalItemStructure_TriCeiling_Metal.PrimalItemStructure_TriCeiling_Metal'" 1 0 0 | cheat giveitem "Blueprint'/Game/PrimalEarth/CoreBlueprints/Items/Structures/Roofs/Metal/PrimalItemStructure_MetalRoof.PrimalItemStructure_MetalRoof'" 1 0 0 | cheat giveitem "Blueprint'/Game/PrimalEarth/StructuresPlus/Structures/Roofs_Tri/Metal/PrimalItemStructure_TriRoof_Metal.PrimalItemStructure_TriRoof_Metal'" 1 0 0 | cheat giveitem "Blueprint'/Game/PrimalEarth/CoreBlueprints/Items/Structures/Metal/PrimalItemStructure_MetalCeilingWithTrapdoor.PrimalItemStructure_MetalCeilingWithTrapdoor'" 1 0 0 | cheat giveitem "Blueprint'/Game/PrimalEarth/CoreBlueprints/Items/Structures/Metal/PrimalItemStructure_MetalTrapdoor.PrimalItemStructure_MetalTrapdoor'" 1 0 0 | cheat giveitem "Blueprint'/Game/PrimalEarth/CoreBlueprints/Items/Structures/Metal/PrimalItemStructure_MetalCeilingWithTrapdoorGiant.PrimalItemStructure_MetalCeilingWithTrapdoorGiant'" 1 0 0 | cheat giveitem "Blueprint'/Game/PrimalEarth/CoreBlueprints/Items/Structures/Metal/PrimalItemStructure_MetalTrapdoorGiant.PrimalItemStructure_MetalTrapdoorGiant'" 1 0 0 | cheat giveitem "Blueprint'/Game/PrimalEarth/CoreBlueprints/Items/Structures/Metal/PrimalItemStructure_MetalRamp.PrimalItemStructure_MetalRamp'" 1 0 0 | cheat giveitem "Blueprint'/Game/PrimalEarth/StructuresPlus/Structures/Ramps/Metal/PrimalItemStructure_Ramp_Metal.PrimalItemStructure_Ramp_Metal'" 1 0 0 | cheat giveitem "Blueprint'/Game/PrimalEarth/CoreBlueprints/Items/Structures/Metal/PrimalItemStructure_MetalCatwalk.PrimalItemStructure_MetalCatwalk'" 1 0 0 | cheat giveitem "Blueprint'/Game/PrimalEarth/CoreBlueprints/Items/Structures/Metal/PrimalItemStructure_MetalGateframe.PrimalItemStructure_MetalGateframe'" 1 0 0 | cheat giveitem "Blueprint'/Game/PrimalEarth/CoreBlueprints/Items/Structures/Metal/PrimalItemStructure_MetalGate.PrimalItemStructure_MetalGate'" 1 0 0 | cheat giveitem "Blueprint'/Game/PrimalEarth/CoreBlueprints/Items/Structures/Metal/PrimalItemStructure_MetalGateframe_Large.PrimalItemStructure_MetalGateframe_Large'" 1 0 0 | cheat giveitem "Blueprint'/Game/PrimalEarth/CoreBlueprints/Items/Structures/Metal/PrimalItemStructure_MetalGate_Large.PrimalItemStructure_MetalGate_Large'" 1 0 0 | cheat giveitem "Blueprint'/Game/PrimalEarth/CoreBlueprints/Items/Structures/Wooden/PrimalItemStructure_TreePlatform_Metal.PrimalItemStructure_TreePlatform_Metal'" 1 0 0 | cheat giveitem "Blueprint'/Game/PrimalEarth/CoreBlueprints/Items/Structures/Metal/PrimalItemStructure_MetalStairs.PrimalItemStructure_MetalStairs'" 1 0 0 | cheat giveitem "Blueprint'/Game/PrimalEarth/CoreBlueprints/Items/Structures/Metal/PrimalItemStructure_MetalLadder.PrimalItemStructure_MetalLadder'" 1 0 0 | cheat giveitem "Blueprint'/Game/Aberration/Structures/CliffPlatforms/Metal_CliffPlatform/PrimalItemStructure_Metal_CliffPlatform.PrimalItemStructure_Metal_CliffPlatform'" 1 0 0 | cheat giveitem "Blueprint'/Game/PrimalEarth/CoreBlueprints/Items/Structures/Metal/PrimalItemStructure_MetalSign.PrimalItemStructure_MetalSign'" 1 0 0 | cheat giveitem "Blueprint'/Game/PrimalEarth/CoreBlueprints/Items/Structures/Metal/PrimalItemStructure_MetalSign_Wall.PrimalItemStructure_MetalSign_Wall'" 1 0 0 | cheat giveitem "Blueprint'/Game/PrimalEarth/CoreBlueprints/Items/Structures/Metal/PrimalItemStructure_MetalSign_Large.PrimalItemStructure_MetalSign_Large'" 1 0 0
Can damage Metal
[
]
Gallery
[
]