This article is about the mod Hope.
This content is only available by installing the mod on a server or on single player.
Overview
[
]
The map has all of the dino's from The Island,SE and Aberration and Extinction. Set in a slightly fantasy style with high detailed biome's to explore. Infusing all 4 expansions onto one map ! with plenty of great building areas for either large,small or solo tribes. Overseer and Rockwell end bosses offer end game play, giving you a complete ark experience. - SteamID: vwcamper
Unique Environmental Features
[
]
Dragon Claw, a volcanic island with a lot of Wyverns, Griffins and Manas (Magmasaur planned) which is also a place where to get Ambergris
Green Obelsik island is an upgraded version of Jungle from The Center which has Gasbags, Velonasaur and a few other dinos from DLCs as well as some Genesis Part 1 textures
Aberration trench similar to the one on Lost Island (all biomes mixed) but the size is comparable to Ebenus Astrum
Dead Brute Creatures stuck in Amber or Ice similar to The Center
Docile Ice Wyvern
Mutated Hope Vulture. A rideable larger SE Vulture that has functions similar to the griffin.
Huge trees and bushes
Water optics are similar to Crystal Isles
Random Aberrant creatures
Mods supported:

Primal Fear
Ark Additions
Ark Eternal
Extinction Core
Anunaki Genesis
AC
Crystal Isles Dino Collection
Planned to support The Chasm - Additional Creatures once it's finished
Hope Map
[
]
Hope consists of multiple climatic and geological regions, including 9 major islands. The map's most notable feature, a large molten island home to the Wyverns, which can be found to the Northeast on the map surrounded by treacherous beaches.
Regions
[
]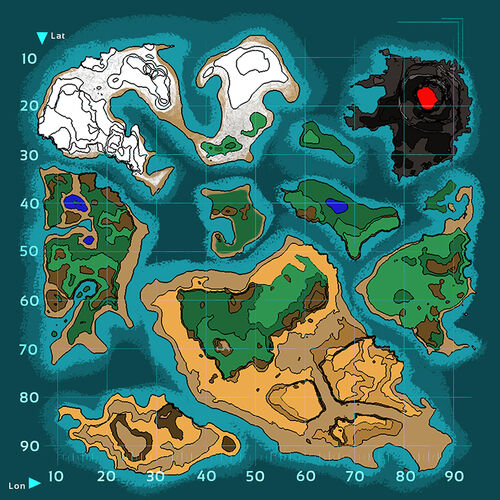 Data Maps
[
]
Explorer Notes
[
]
A total of 87 notes are on the map. - April/2022
Left Snow Island (Blue Obelisk)
14,4 / 29,1 - Anglerfish (Remove Stone. Just reachable. Hidden in the ground.)
19,9 / 33,1 - Archaeopteryx
12,2 / 28,6 - Argentavis
29,7 / 23,6 - Carnotaurus (Underwater)
28,4 / 26,1 - Chalicotherium
18,7 / 11,0 - Diplodocus
25,1 / 18,5 - Gigantopithecus
20,8 / 13,5 - Meiyin #1
14,7 / 26,7 - Meiyin #4
Right Snow Island
31,0 / 48,6 - Coelacanth
09,6 / 52,6 - Meiyin #3
Volcano Island
14,3 / 80,8 - Arthropleura
23,6 / 69,0 - Beelzebufo
19,4 / 79,3 - Castoroides
24,8 / 78,3 - Dimetrodon
22,1 / 77,9 - Dimorphodon
21,6 / 90,6 - Diplocaulus
30,8 / 81,1 - Dung Beetle
20,6 / 83,9 - Nerva #1
29,6 / 86,2 - Nerva #2
21,1 / 77,1 - Rockwell #1
28,1 / 82,7 - Rockwell #4
Left Swamp/Jungle Island
40,0 / 15,9 - Direwolf
56,8 / 19,2 - Dodo
45,2 / 23,7 - Doedicurus
36,0 / 15,7 - Meganeura
67,9 / 11,9 - Onyc
58,5 / 15,9 - Oviraptor
46,0 / 15,8 - Rockwell #3
Middle left Island
37,9 / 45,2 - Araneo
39,7 / 49,1 - Compy
43,2 / 48,9 - Eurypterid
39,4 / 46,9 - Megalodon
Middle right Island (Karkinos lake)
41,1 / 58,9 - Dunkleosteus
40,5 / 67,3 - Gallimimus
43,0 / 69,2 - Giganotosaurus
43,8 / 69,7 - Nerva #4
Right Island (Green Obelisk)
38,7 / 89,6 - Direbear
54,1 / 84,5 - Ichthyosaurus
40,5 / 85,1 - Kairuku
68,5 / 86,2 - Megaloceros (Remove Stone)
Desert Island (Red Obelisk)
87,5 / 36,0 - Pachy
85,9 / 24,4 - Paraceratherium
79,4 / 30,9 - Parasaur
90,2 / 23,6 - Quetzal
91,1 / 29,7 - Raptor
81,1 / 22,1 - Sabertooth
83,5 / 41,9 - Sarco
90,1 / 35,4 - Woolly Rhino
85,7 / 19,0 - Rockwell #2
Big Island Desert
87,1 / 55,4 - Kaprosuchus
86,1 / 54,4 - Leech
70,5 / 60,4 - Lystrosaurus
75,5 / 62,4 - Mammoth
68,2 / 70,6 - Piranha
81,6 / 75,5 - Procoptodon
69,9 / 76,0 - Pteranodon
86,6 / 63,2 - Pulmonoscorpius
80,9 / 57,7 - Sabertooth Salmon
90,7 / 83,9 - Spino
79,2 / 82,2 - Stegosaurus
Big Island Reedwood
74,1 / 45,3 - Pelagornis
67,6 / 52,0 - Phiomia
69,8 / 58,6 - Plesiosaurus
67,6 / 36,1 - Tapejara
62,9 / 36,6 - Terror Bird
70,4 / 44,1 - Titanosaur
Ocean / River
16,5 / 00,6 - Allosaurus
08,5 / 18,2 - Ankylosaurus
29,5 / 03,1 - Brontosaurus
04,3 / 38,8 - Carbonemys
90,1 / 03,5 - Dilohposaur
72,4 / 97,7 - Manta
11,9 / 90,2 - Megalosaurus
04,5 / 89,0 - Mesopithecus
07,3 / 91,4 - Mosasarurus
53,6 / 98,6 - Rex
33,9 / 99,1 - Titanoboa
49,5 / 02,2 - Titanomyrma
10,6 / 01,8 - Triceratops
02,8 / 10,9 - Trilobite
01,5 / 97,7 - Helena #1
98,7 / 75,2 - Helena #2
99,2 / 34,8 - Helena #3
97,2 / 07,4 - Helena #4
07,7 / 14,3 - Meiyin #2
22,8 / 18,5 - Nerva #3
Artifact Coord
[
]
Some locations have 2 possible artifact spawns, such as Hunter sharing with Stalker. But know that some locations do spawn multiple artifacts. It might take a couple of tries. -Steam User: Jessina
Artifact of the Pack - [63.70, 52.97]
Artifact of the Cunning/Depths - [64.22, 48.53]
Artifact of the Devourer - [57.49, 51.77]
Artifact of the Immune - [56.46, 57.74]
Artifact of the Destroyer - [55.63, 58.39]
Artifact of the Strong/Shadows - [61.36, 54.97]
Artifact of the Gatekeeper - [63.35, 48.97]
Artifact of the Skylord - [61.24, 51.24]
Artifact of the Brute - [60.81, 52.54]
Artifact of the Clever - [60.52, 50.31]
Artifact of the Crag - [65.07, 45.02]
Artifact of the Massive - [68.69, 46.11]
Artifact of the Hunter/Stalker - [64.55, 56.57]
Artifact of the Devious - [63.66, 46.39] (Ledge)

Creatures
[
]
Scorched Earth
[
]
Ragnarok
[
]
Aberration
[
]
Extinction
[
]
Fjordur
[
]
Boss creatures
[
]
External Links
[
]