Overview
[
]
The Vault is a large, very durable container. It is capable of holding 350 stacks worth of items. If placed in a room, the room needs to be at least 2 walls high, 1 foundation wide and 1 foundation long.
Sustaining
[
]
A Vault has 50000 hitpoints. To destroy it you would need:
Explosive Damage-List: List of explosive damage versus various materials as of Patch 257:
* The damage is greater than the health-points of structures of that material
** IEDs are currently just about impossible to place on stone, metal, or Tek structures.
Notes
[
]
Unlike smaller storage boxes, a Vault will not be destroyed if the ceiling it sits upon is destroyed. For example, when seated upon the second floor of a building, the vault will fall to the lower floor, if the ceiling is destroyed from underneath it.
Based on player experiment, the vault survives the fall only if it is less than ~27 wall's height. Falling from higher altitude results the disappearance of the vault (no lootbag).
Vaults can no longer be placed on rafts or platform saddles.
On mobile, Vaults can be placed on rafts (tested on unofficial server)
Occasionally vaults (and various other crafting stations and storage structures) on Official servers will - seemingly at random - lose their Locked status after server patches. It is recommended to pin-lock vaults and keep valuable items behind walled rooms. Always check your valuable item vaults and crafting stations after each patch to ensure they are properly secured.
Vaults are treated as a metal structure
For more information on Paint Regions and how to use them, please view the
Dye,
 Paintbrush, or

 Spray Painter pages.

Region 2 is not used
for this Object.

Region 5 is not used
for this Object.
Version History
[
]
Prior to v279.275 the vault can only hold up to 150 slots of items.
Prior to v256.0 the vault was larger (3.2 × 1.3 × 1.3 foundations big) and a bit cheaper to build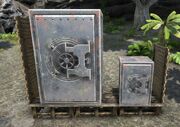 Structures
Primitive

Industrial

 Crafting
Production
Power
Storage
Furniture
Weaponry
Elevator
Vehicles

Tek

 Crafting
Production
Power
Storage
Furniture
Weaponry
Vehicles

Other