Spawn Command
cheat giveitemnum 135 1 0 0
or
cheat giveitem "Blueprint'/Game/PrimalEarth/CoreBlueprints/Items/Structures/Wooden/PrimalItemStructure_WoodFenceFoundation.PrimalItemStructure_WoodFenceFoundation'" 1 0 0
Spawn Command
cheat giveitemnum 89 1 0 0
or
cheat gfi woodpillar 1 0 0
or
cheat giveitem "Blueprint'/Game/PrimalEarth/CoreBlueprints/Items/Structures/Wooden/PrimalItemStructure_WoodPillar.PrimalItemStructure_WoodPillar'" 1 0 0
Cost
15 × 
Cuts

Spawn Command
cheat giveitemnum 94 1 0 0
or
cheat giveitem "Blueprint'/Game/PrimalEarth/CoreBlueprints/Items/Structures/Wooden/PrimalItemStructure_WoodWallWithWindow.PrimalItemStructure_WoodWallWithWindow'" 1 0 0
Cost
10 × 
Cuts

Spawn Command
cheat giveitemnum 95 1 0 0
or
cheat giveitem "Blueprint'/Game/PrimalEarth/CoreBlueprints/Items/Structures/Wooden/PrimalItemStructure_WoodWindow.PrimalItemStructure_WoodWindow'" 1 0 0
Spawn Command
cheat giveitemnum 142 1 0 0
or
cheat giveitem "Blueprint'/Game/PrimalEarth/CoreBlueprints/Items/Structures/Wooden/PrimalItemStructure_WoodGateframe.PrimalItemStructure_WoodGateframe'" 1 0 0
Cost
110 × 
Cuts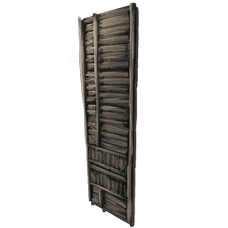 | | | |
| --- | --- | --- |
| " | A large wooden gate that can be used with a gateway to keep dinosaurs in or out. Cannot be destroyed by any dinosaur. | " |
Spawn Command
cheat giveitemnum 145 1 0 0
or
cheat giveitem "Blueprint'/Game/PrimalEarth/CoreBlueprints/Items/Structures/Wooden/PrimalItemStructure_WoodGate.PrimalItemStructure_WoodGate'" 1 0 0
Cost
20 × 
Cuts

Spawn Command
cheat giveitem "Blueprint'/Game/PrimalEarth/CoreBlueprints/Items/Structures/Wooden/PrimalItemStructure_RopeLadder.PrimalItemStructure_RopeLadder'" 1 0 0
Wooden Structures are the second building tier in ARKs Building System.
Crafting
[
]
The Structures are primarly made of Wood, which can be harvested from trees.
Usage
[
]
Due to its vulnerability to most things that can be ridden (in PvP), Wooden Structures are only useful as a kind of scaffolding before replacing it with stronger materials. However, it could be used to make an outpost in PvE due to not having to worry about other players.
Spawn Commands
[
]
Use this command to give yourself a full set of Wooden structures.
Spawn Command
cheat giveitem "Blueprint'/Game/PrimalEarth/CoreBlueprints/Items/Structures/Wooden/PrimalItemStructure_WoodFloor.PrimalItemStructure_WoodFloor'"1 0 0 | cheat giveitem "Blueprint'/Game/PrimalEarth/StructuresPlus/Structures/Foundations/Triangle/Wood/PrimalItemStructure_TriFoundation_Wood.PrimalItemStructure_TriFoundation_Wood'" 1 0 0 | cheat giveitem "Blueprint'/Game/PrimalEarth/CoreBlueprints/Items/Structures/Wooden/PrimalItemStructure_WoodFenceFoundation.PrimalItemStructure_WoodFenceFoundation'" 1 0 0 | cheat giveitem "Blueprint'/Game/PrimalEarth/StructuresPlus/Structures/FenceSupports/Wood/PrimalItemStructure_FenceSupport_Wood.PrimalItemStructure_FenceSupport_Wood'" 1 0 0 | cheat giveitem "Blueprint'/Game/PrimalEarth/CoreBlueprints/Items/Structures/Wooden/PrimalItemStructure_WoodPillar.PrimalItemStructure_WoodPillar'"1 0 0 | cheat giveitem "Blueprint'/Game/PrimalEarth/CoreBlueprints/Items/Structures/Wooden/PrimalItemStructure_WoodWall.PrimalItemStructure_WoodWall'"1 0 0 | cheat giveitem "Blueprint'/Game/PrimalEarth/StructuresPlus/Structures/Walls_L/Wood/PrimalItemStructure_LargeWall_Wood.PrimalItemStructure_LargeWall_Wood'" 1 0 0 | cheat giveitem "Blueprint'/Game/PrimalEarth/CoreBlueprints/Items/Structures/Roofs/Wood/PrimalItemStructure_WoodWall_Sloped_Left.PrimalItemStructure_WoodWall_Sloped_Left'"1 0 0 | cheat giveitem "Blueprint'/Game/PrimalEarth/CoreBlueprints/Items/Structures/Roofs/Wood/PrimalItemStructure_WoodWall_Sloped_Right.PrimalItemStructure_WoodWall_Sloped_Right'"1 0 0 | cheat giveitem "Blueprint'/Game/PrimalEarth/CoreBlueprints/Items/Structures/Wooden/PrimalItemStructure_WoodWallWithDoor.PrimalItemStructure_WoodWallWithDoor'"1 0 0 | cheat giveitem "Blueprint'/Game/PrimalEarth/StructuresPlus/Structures/Doorframes_Double/Wood/PrimalItemStructure_DoubleDoorframe_Wood.PrimalItemStructure_DoubleDoorframe_Wood'" 1 0 0 | cheat giveitem "Blueprint'/Game/PrimalEarth/CoreBlueprints/Items/Structures/Wooden/PrimalItemStructure_WoodDoor.PrimalItemStructure_WoodDoor'"1 0 0 | cheat giveitem "Blueprint'/Game/PrimalEarth/StructuresPlus/Doors/Doors_Double/Wood/PrimalItemStructure_DoubleDoor_Wood.PrimalItemStructure_DoubleDoor_Wood'" 1 0 0 | cheat giveitem "Blueprint'/Game/PrimalEarth/CoreBlueprints/Items/Structures/Wooden/PrimalItemStructure_WoodWallWithWindow.PrimalItemStructure_WoodWallWithWindow'"1 0 0 | cheat giveitem "Blueprint'/Game/PrimalEarth/CoreBlueprints/Items/Structures/Wooden/PrimalItemStructure_WoodWindow.PrimalItemStructure_WoodWindow'"1 0 0 | cheat giveitem "Blueprint'/Game/PrimalEarth/CoreBlueprints/Items/Structures/Wooden/PrimalItemStructure_WoodRailing.PrimalItemStructure_WoodRailing'"1 0 0 | cheat giveitem "Blueprint'/Game/PrimalEarth/CoreBlueprints/Items/Structures/Wooden/PrimalItemStructure_WoodSpikeWall.PrimalItemStructure_WoodSpikeWall'"1 0 0 | cheat giveitem "Blueprint'/Game/PrimalEarth/CoreBlueprints/Items/Structures/Wooden/PrimalItemStructure_WoodCeiling.PrimalItemStructure_WoodCeiling'"1 0 0 | cheat giveitem "Blueprint'/Game/PrimalEarth/StructuresPlus/Structures/Ceilings/Triangle/Wood/PrimalItemStructure_TriCeiling_Wood.PrimalItemStructure_TriCeiling_Wood'" 1 0 0 | cheat giveitem "Blueprint'/Game/PrimalEarth/CoreBlueprints/Items/Structures/Roofs/Wood/PrimalItemStructure_WoodRoof.PrimalItemStructure_WoodRoof'"1 0 0 | cheat giveitem "Blueprint'/Game/PrimalEarth/StructuresPlus/Structures/Roofs_Tri/Wood/PrimalItemStructure_TriRoof_Wood.PrimalItemStructure_TriRoof_Wood'" 1 0 0 | cheat giveitem "Blueprint'/Game/PrimalEarth/CoreBlueprints/Items/Structures/Wooden/PrimalItemStructure_WoodCeilingWithTrapdoor.PrimalItemStructure_WoodCeilingWithTrapdoor'"1 0 0 | cheat giveitem "Blueprint'/Game/PrimalEarth/CoreBlueprints/Items/Structures/Wooden/PrimalItemStructure_WoodTrapdoor.PrimalItemStructure_WoodTrapdoor'"1 0 0 | cheat giveitem "Blueprint'/Game/PrimalEarth/CoreBlueprints/Items/Structures/Wooden/PrimalItemStructure_WoodRamp.PrimalItemStructure_WoodRamp'"1 0 0 | cheat giveitem "Blueprint'/Game/PrimalEarth/StructuresPlus/Structures/Ramps/Wood/PrimalItemStructure_Ramp_Wood.PrimalItemStructure_Ramp_Wood'" 1 0 0 | cheat giveitem "Blueprint'/Game/PrimalEarth/CoreBlueprints/Items/Structures/Wooden/PrimalItemStructure_WoodCatwalk.PrimalItemStructure_WoodCatwalk'"1 0 0 | cheat giveitem "Blueprint'/Game/PrimalEarth/CoreBlueprints/Items/Structures/Wooden/PrimalItemStructure_WoodGateframe.PrimalItemStructure_WoodGateframe'" 1 0 0 | cheat giveitem "Blueprint'/Game/PrimalEarth/CoreBlueprints/Items/Structures/Wooden/PrimalItemStructure_WoodGate.PrimalItemStructure_WoodGate'" 1 0 0 | cheat giveitem "Blueprint'/Game/PrimalEarth/CoreBlueprints/Items/Structures/Wooden/PrimalItemStructure_TreePlatform_Wood.PrimalItemStructure_TreePlatform_Wood'"1 0 0 | cheat giveitem "Blueprint'/Game/PrimalEarth/CoreBlueprints/Items/Structures/Wooden/PrimalItemStructure_WoodStairs.PrimalItemStructure_WoodStairs'"1 0 0 | cheat giveitem "Blueprint'/Game/PrimalEarth/CoreBlueprints/Items/Structures/Wooden/PrimalItemStructure_WoodLadder.PrimalItemStructure_WoodLadder'"1 0 0 | cheat giveitem "Blueprint'/Game/PrimalEarth/CoreBlueprints/Items/Structures/Wooden/PrimalItemStructure_RopeLadder.PrimalItemStructure_RopeLadder'"1 0 0 | cheat giveitem "Blueprint'/Game/PrimalEarth/CoreBlueprints/Items/Structures/Wooden/PrimalItemStructure_WoodSign.PrimalItemStructure_WoodSign'"1 0 0 | cheat giveitem "Blueprint'/Game/PrimalEarth/CoreBlueprints/Items/Structures/Wooden/PrimalItemStructure_WoodSign_Wall.PrimalItemStructure_WoodSign_Wall'"1 0 0 | cheat giveitem "Blueprint'/Game/PrimalEarth/CoreBlueprints/Items/Structures/Wooden/PrimalItemStructure_WoodSign_Large.PrimalItemStructure_WoodSign_Large'"1 0 0 | cheat giveitem "Blueprint'/Game/PrimalEarth/CoreBlueprints/Items/Structures/Wooden/PrimalItemStructure_Furniture_WoodChair.PrimalItemStructure_Furniture_WoodChair'"1 0 0 | cheat giveitem "Blueprint'/Game/PrimalEarth/CoreBlueprints/Items/Structures/Wooden/PrimalItemStructure_Furniture_WoodBench.PrimalItemStructure_Furniture_WoodBench'"1 0 0 | cheat giveitem "Blueprint'/Game/PrimalEarth/CoreBlueprints/Items/Structures/Wooden/PrimalItemStructure_Furniture_WoodTable.PrimalItemStructure_Furniture_WoodTable'"1 0 0
Gallery
[
]